Do you follow Gary Vee's content?
He has consistently predicted trends in the social media and marketing spaces. He predicted the success of Instagram AND its acquisition by Facebook, years ago. There's one platform he's talking about right now: TikTok.
Why is that?
In marketing terms, it has high traffic and low competition. Between me and you, that means there are lots of users but not many videos. Guess what! That means it's crazy easy to succeed.
So those who are creating content (however short and low-effort) are seeing celebrity-level number of views and some people (a lot of people) are going viral literally overnight. Does a million views on a new account within 24 hours sound good to you? It does to me.
I have a little secret though. This is nothing new. Facebook, Instagram and Snapchat all went through this stage. So many people try to be influencers on Instagram because they see the people that have made a career from it and so they can do the same. The secret is that all those influencers became famous because they were early adopters.
As the saying goes, the early bird catches the worm. Be that early bird.
People saw Instagram as just an app for teenagers and kids with no commercial or marketing value…
But now we see Instagram as the pinnacle of social media marketing and the place for every business to have an account. The issue is that it's harder and harder to grow, get more followers and make money on Instagram. I can see that more and more people are looking to TikTok – and they don't want to wait years to figure out the platform and how to monetize it.
People want to jump on TikTok early so they can capitalize on all the interest today and start making money from TikTok. 
If this sounds like you and you're interested in jumping on TikTok today to figure out how to actually monetize your following, then you're in the right place. I'm THE industry expert on growing on TikTok and can help you go viral, but today:
Three ways that I'm seeing people actually make money today from TikTok. 
AND I'm going to share with you why TikTok might be more powerful than even Instagram…
---
6 Ways to Make Money on TikTok
#1: Selling Accounts (that you've grown)
On Instagram, people are selling meme pages and niche (travel, business, gaming) account for thousands and thousands of dollars. It's also my first and easiest way to make money on TikTok.
Similar to Instagram, you're going to choose a niche and then go ahead and create entertaining content, ideally content that goes viral to attract that person who would be the ideal customer for a product.
If you're crafty, you can re-upload content from YouTube, cut it to the right size and length and then upload 5 videos a day without effort. I'm not quite ready to share this method which has helped me grow 10+ accounts to over 500k followers but if you want a preview, get in touch on Instagram: @elliot.padfield
There are already some enterprising people like you doing this. They've picked their topic, are uploading content and using growth services (like the one I offer) to supercharge their growth. Usually, it's a niche topic and they might not have anything to sell, but they're going to reach out to brands in that industry and sell their TikTok profile to them and people are legit making loads money this way. If you wait for TikTok to grow, you will be able to sell accounts for even more. Imagine having 30 accounts. At Instagram prices, that's at least $150,000.
The good news for brands is once they have that account in their hands, it's actually fairly easy to sell products.
One way that people are selling products is through TikTok Live. They are launching products while livestreaming or they're actually holding auctions while live streaming.
And, of course, there is the link in the bio where you can always drive your followers to purchase your product. At the moment you can only link to YouTube or Instagram but for large accounts that work with industry experts like myself (Elliot Padfield), we can have a bio link to any page added to your profile.
So if you're the type of person to love TikTok, and you just want to grow a following around a certain topic and build that community around a certain topic, go for it and then reach out to those brands who would love to have access to those followers and sell them your account. 
#2: Donations
The second way people are making money from TikTok is going Live and collecting donations from viewers (just like you can do on other platforms, like Twitch).
TikTok Live is my favourite part of the platform. Going live and meeting my followers is the best thing that I have ever done.
It's really a built-in monetization platform, from day one, just waiting for you.
It follows the model of other platforms like YouNow but here's how it works.
As a user of TikTok, you can go into your profile and purchase coins.
$1.39 will get you 100 coins.
Now, what do users do with these coins?
When one of their favorite creators (you) is going Live, they can actually send you coins as a way of giving thanks for all of their effort in creating the content they do.
What do you do with these coins?
TikTok allows you to convert these digital gifts into cash via PayPal. Literally making money with TikTok. Direct, simple, easy.
Cool, right?
On the Chinese version of TikTok – an app called Douyin – there is a next-level feature similar to this. When creators are Live, they can actually attach a shopping cart to a product they sell. So it's kinda like QVC or the shopping channel. You can go Live, hold an auction, and people can buy your product while you're Live through the shopping cart feature.
My guess is this feature is going to come to accounts worldwide sooner rather than later. 
#3: Tiktok ads platform
The fourth way you can make money from TikTok is by using their ads platform.
Just like Facebook and Instagram ads, you can use paid advertising to generate plenty of sales for your products.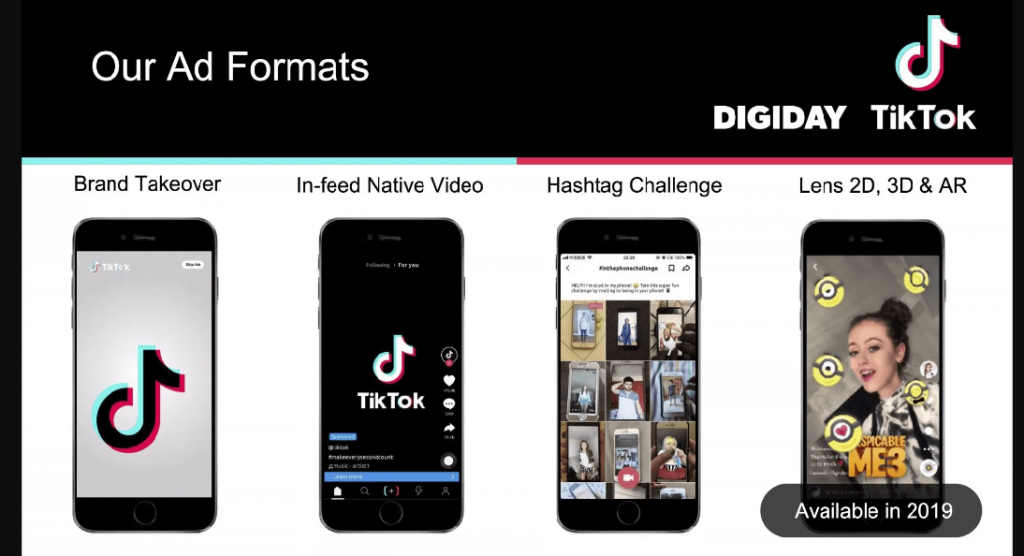 Do you have a product, run a dropshipping store, or are looking to get more bookings?

It is pretty self-explanatory if you've ever run paid traffic before, so if your market's on TikTok, it might be worth you creating a few ads, putting some budget toward experimenting there and seeing what happens.
Maybe you can sell more of your products through TikTok!
I'm certified by TikTok as one of their accredited ads specialists and would love to help you succeed on TikTok and with the TikTok ads platform. Get in touch to take advantage of the platform.
---
So there you have it. Three ways that I see people making money from TikTok today, even while it's still really, really early on. 
Why do I think that TikTok might be more powerful than Instagram?
The way I see it, Instagram stories are kind of similar to TikTok videos, but they expire after 24 hours. This is where TikTok is powerful. TikTok is actually similar to YouTube, meaning you can publish a video today, but maybe the algorithm picks it up months later and starts pushing that video into the feed of people who would like it.
The fact that your videos don't disappear has a lot of power to it because it can drive a lot of traffic and eyeballs to you months after the fact.
That reason alone is why people are getting sometimes millions of views to their TikTok videos with very few followers. It's because the algorithm is picking up your video, and pushing it out.
Again, there's a lot of interest and not a lot of content. So the algorithm is pushing it out to the people who it thinks are going to be receptive to that content. And – hello – waking up to millions of views with very few followers. 
I mean, in today's day and age, I don't think there's any other app or platform that can give you those kinds of results right now.
I am on TikTok, so go ahead and find me. I'm @elliot.padfield. Come and say hello or email me and enquire about the TikTok services that I provide to everyone from personal accounts to major brands. That would be pretty awesome.
Are you on Tiktok yet? Drop your Tiktok handle in the comments below ?